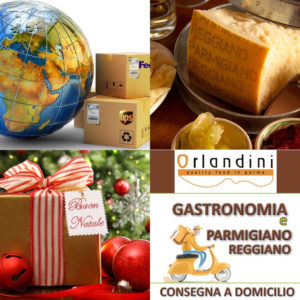 Our shipments come all over the world
Shipments to Italy take place with average delivery times of 2/3 days for Italy for express shipments, and 3/4 days for refrigerated shipments.
European countries are served and 3/4 days by express courier or refrigerated courier.
Shipments are departed on Tuesdays and Wednesdays so that delivery to the customer can be completed by Friday, to avoid stops at warehouses over the weekend. Gastronomy for shipments is produced in the kitchen on Tuesdays.
The product is enclosed in its original packaging with official labeling and traceability information. The outer packaging is designed to allow to withstand shocks during transport, and to guarantee the different thermal levels of shelf life depending on the product shipped.
To offer a better service to the customer, our company has decided to apply minimum fixed shipping costs for the target 0-20 kg. Both on traditional shipments (without refrigerant if the outside temperature allows, for cheeses and cold cuts, or with temperature controlled with gel ice, for vacuum-packed roasts and fresh pasta).
Refrigerated shipments have as their limit the size of a europallet about 1.5 meters high for a total of about 300kg in weight.
Below we summarize shipping costs based on delivery zones:
Express shipments for Italy from €18,00
Refrigerated shipping for Italy from 35.00€ (for a pallet 1.5 m high, about 300 kg)
Shipping to Europe by express courier from 50,00€
Shipping to Europe by refrigerated courier from 240,00€ (for a pallet 1.5 m high and about 300 kg high)
Shipping to Switzerland by express courier from 70,00€, proforma accompanying invoice also for private individuals (if necessary must be added the costs of collection of non-EU transfer)
For Shipping  in England we are waiting for new instructions, but the conditions for Switzerland should be valid, therefore by express courier starting from 70,00€
Shipping to the United States of America by express courier up to 3 kg (both Parmigiano Reggiano and fresh pasta without meat filling) the amount is about 80,00€, for shipments of 20 kg the cost is about 250€.
The cost of shipping also includes the costs of packaging, wine cellars and gel ice if necessary.
For more information, please contact us at info@orlandini-parma.com